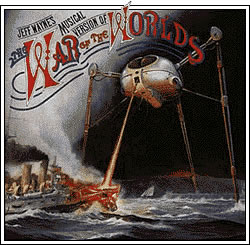 There is, out there, on the web, another website dedicated to showing you the actual places in Woking, Surrey that H.G. Wells used as his settings, in his monumental novel The War of The Worlds(we've linked to it on the right hand of the Eve of the War page). Our aim with this small website is not to duplicate that work, but to expand the idea a little further and show you all the sites in Southern England, that Wells used, and to elaborate on the history of the period.
The primary focus, though, of this site is Jeff Wayne's musical adaption, and to that we have interwoven, Wells' book and history. We'll feature three tracks,The Eve of the War and Forever Autumn, room (mega-byte) won't allow us, unfortunately, to use the entire album, besides, we hope that what you do hear will encourage you to go out a purchase the album yourself. One thing that needs to be noted about the CD version of The War of the Worlds. There is a "Re-Mastered" version currently doing the rounds, and advertises bonus tracks, these, so called, bonus tracks are merely existing tracks, Forever Autumn being an example, that have been re-mixed, and geared to the dance crowd. Our advice here, is to ignore this version of the album, and stick with the original CD release, or better still, the vinyl, the cover artwork, which we are featuring throughout the website, is all a part of the experience.Also featured is a cast listing for the musical, biography page for H.G.Wells and, of course a links page, where once again, we do part of the work for you and seek the interesting and unusual websites, on a myriad of topics, that are out there on the internet.
But enough from us, let us now take that step back to the year 1898, and through the words of H.G. Wells to the eve of the greatest catastrophy that ever befell humankind..........
Thursday 13 April 2006 - Bournemouth BIC

Friday 14 April 2006 - Brighton Centre
Saturday 15 April 2006 - Bournemouth BIC SOLD OUT
Sunday 16 April 2006 - Cardiff International Arena
Tuesday 18 April 2006 -
London Royal Albert Hall SOLD OUT
Wednesday 19 April 2006 - Birmingham NEC Arena
Thursday 20 April 2006 - Nottingham Arena
Saturday 22 April 2006 - Glasgow Clyde Auditorium
Sunday 23 April 2006 - Manchester MEN Arena
Tuesday 25 April 2006 – Wembley Arena
Thursday 27 April 2006 - Newcastle Arena

Friday 28 April 2006 - Glasgow Clyde Auditorium
Saturday 29 April 2006 - Sheffield Arena