ULLA!!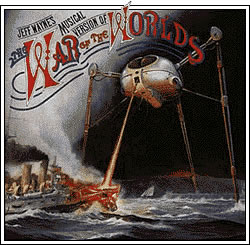 Inspired by the classic HG Wells novel, Jeff Wayne's Musical Version of The War of the Worlds will head for
Birmingham's NEC Arena
on April 19 2006. With plans to have five Martian Fighting Machines as tall as 30 feet, a Martian Handling and Flying machine and the Thunder Child Frigate, it promises to be truly spectacular – and, thanks to state-of-the-art technology, Richard Burton's original performance will be brought back to life!
"This large-scale show is somewhere between a rock concert and very large-scale theatre production," explains Jeff Wayne who will be conducting The Black Smoke Band and the 48 piece ULLAdubULLA Strings (pronounced as one word: oole-dub-oole) along with special guest
Justin Hayward
.The show follows the multi-award winning classic album that has become the biggest selling re-issue album this year, and now includes a prequel showing Mars suffering from severe ecological problems forcing the Martians to leave the planet.
Thursday 13 April 2006 - Bournemouth BIC
Friday 14 April 2006 - Brighton Centre
Saturday 15 April 2006 - Bournemouth BIC SOLD OUT
Sunday 16 April 2006 - Cardiff International Arena
Tuesday 18 April 2006 -
London Royal Albert Hall SOLD OUT
Wednesday 19 April 2006 - Birmingham NEC Arena
Thursday 20 April 2006 - Nottingham Arena
Saturday 22 April 2006 - Glasgow Clyde Auditorium
Sunday 23 April 2006 - Manchester MEN Arena
Tuesday 25 April 2006 – Wembley Arena
Thursday 27 April 2006 - Newcastle Arena
Friday 28 April 2006 - Glasgow Clyde Auditorium
Saturday 29 April 2006 - Sheffield Arena
new concert dates in bold type